---
Whitepaper
Wireless router policy enforcement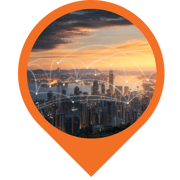 For operators, network coverage is always a key selling point; to the carrier, this is referred to as POP (Percentage of Population).
This whitepaper presents the difference between fixed-line and wireless routers and Intersec technology.
We developed a specific feature for operators to monitor motionless assets such as FWR. Thanks to the passive location data collection and the Personalized Geofence (PGF) feature in GeoHub, operators can transform unauthorized movements of FWR into actions.
Fill out the form to get your whitepaper!